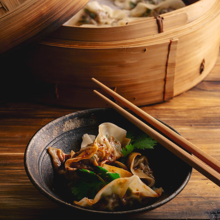 Lamb & Ginger Dumplings
---
Ingredients:
300g lamb mince
½ cup finely sliced spring onion
2 tbsp grated ginger
2 garlic cloves, finely chopped
¼ cup finely chopped coriander
1 tbsp soy sauce
1 tsp sea salt
20 gow gee or gyoza wrappers
Dipping sauce:
¼ cup light soy sauce
1 tbsp white vinegar
1 tsp sesame oil
½ tsp chilli powder
Borrowed from Marion Grasby (Marion's Kitchen)
Serves: Makes about 20
Method:

For the dipping sauce, whisk all ingredients together.
For the dumpling filling, combine lamb, spring onion, ginger, garlic, soy sauce and salt in a large bowl. Mix well.
Place a dumpling wrapper on a clean work surface and place a tablespoon of filling in the centre. Wet edge of the wrapper with a little water. Fold wrapper in half and press to seal. Repeat with remaining wrappers and filling. Dumplings can be made in advance and store covered in the fridge or freezer.
Line a steamer (bamboo or metal) with baking paper. Half fill a wok with water and bring to the boil. Place dumplings in the steamer and cover. Steam for 12-15 minutes or until cooked through.
Serve with dipping sauce.