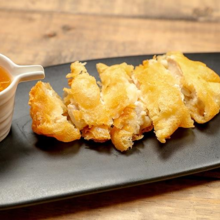 Lemon Chicken
---
Ingredients:
Battered Chicken:
oil, for deep frying
1 ½ cup self raising flour
½ tsp baking powder
1 tbsp sugar
½ tsp salt
2 x 200g skinless chicken breast
Lemon sauce:

½ cup fresh lemon juice
¼ cup honey
1 tsp thinly sliced lemon peel
1 tbsp potato starch
Serves: 4
Preparation time: 30 minutes
Method:

Heat oil in a wide deep pan to 180C.
For the batter, place flour, baking powder, sugar and salt in a medium bowl. Gradually whisk in 1 ½ cups water until it forms a smooth and slightly thick batter.
Butterfly the chicken breasts to make a thinner fillet. Cover fillets with cling film and use a rolling pin to flatten to a uniform thickness.
Dip chicken into the batter and allow excess batter to drain. Submerge into hot oil and cook, in 2 batches if required, until batter is golden and crisp and chicken is cooked through, about 5 minutes. Remove from oil and drain on paper towel.
For the Lemon Sauce, place the lemon juice, honey, sliced lemon peel and ¼ cup water into a small frypan and heat over medium to low heat and bring to a boil.
Meanwhile, mix the potato starch with 1 tablespoon of extra water. Once lemon juice mixture is boiling, gradually add in the potato starch mix, whisking continuously until thickened. Transfer to a serving jug.
To serve, slice Battered Chicken and divide between the serving plates. Serve with Lemon Sauce on the side.