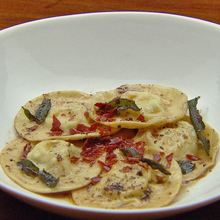 Pear & Ricotta Ravioli
---
Ingredients:
Ravioli Dough:

400g 00 Flour, plus more for dusting
4 eggs
2 egg yolks
Pear and Ricotta Filling:

240g pear
1 egg yolk
100g ricotta cheese
50g parmesan, grated
35g cream
½ tbsp parsley, finely chopped
nutmeg, grated, to taste
salt and pepper, to taste
Burnt Sage Butter:

100g butter
20 sage leaves
To serve:

130g sliced prosciutto
parmesan, grated
Serves: 4
Preparation time: 1 hour
Method:

Preheat oven to 160C.
For the Ravioli Dough, place flour, eggs and egg yolks in a bowl and mix to form a dough. Turn out onto a floured surface and knead until the dough is smooth, about 5 to 8 minutes. Wrap in cling film and set aside to rest in fridge for 30 minutes.
Divide the pasta dough into 4 equal portions and roll through a pasta machine, from the thickest to second thinnest setting. Lightly dust a work surface with some flour and lay pasta sheets on bench. Using an 8cm round pastry cutter cut out the pasta into 24 rounds. Cover with a damp towel and set aside.
For the Pear and Ricotta Filling, coarsely grate pear and place into a clean tea towel. Twist the tea towel to extract as much moisture from the pear as possible.
Transfer pear to a medium sized bowl, add remaining ingredients and mix to combine.
Place a heaped teaspoon of the pear and ricotta mixture into the centre of a dough round. Brush edge with water and then working quickly top with another dough round. Press to seal the edge, expelling all the air. Repeat with remaining filling and rounds and set aside until serving.
For the Burnt Sage Butter, place butter and sage leaves in a frypan and place over a medium heat. Stir until the butter is nutty brown in colour and the sage leaves are crisp, about 3 to 4 minutes. Set aside, keeping warm, until serving.
For the prosciutto for serving, place prosciutto onto a lined baking tray and place in oven, or until prosciutto is crisp and golden, about 20-25 minutes. Remove from oven and set aside until cool enough to handle. Crumble and set aside until serving.
To serve, bring a large saucepan of generously salted water to the boil. Add the ravioli and cook for 3 to 4 minutes. Remove from water, drain well and gently toss through the Burnt Sage Butter.
Place Pear and Ricotta Ravioli and Burnt Sage Butter into each serving bowl. Sprinkle with crumbled prosciutto and parmesan.