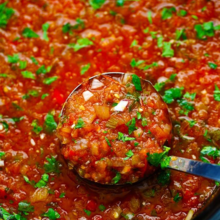 Slow Cooker Salsa
---
Ingredients:
7 cups red tomatoes, chopped
2 large onions, (I used 1 red and 1 white onion)
1 red capsicum, chopped
1 green capsicum, chopped
4 jalapeno peppers, chopped (leave seeds in for more heat)
¼ cup apple cider vinegar
1 teaspoon ground coriander
1 tablespoons fresh, chopped coriander
3 tablespoons fresh chopped basil
1 tablespoon fresh chopped sage
1-2 teaspoons salt (to taste)
Preparation time: 10 minutes - 4 hours
Method:

In a slow cooker add tomatoes, onions, peppers, apple cider vinegar, and coriander. Cook on low for 4-5 hours or high for 3-4. Right before it is done add in the cilantro, basil, and sage. Let it cool for a bit.
Spoon the salsa in to a blender or food processor. Pulse until it is the desired thickness. Add in salt to taste. This salsa is easy to freeze or you can can it for future use.