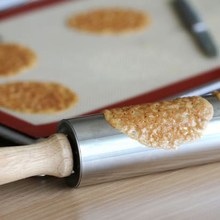 Coffee Tuiles
---
Ingredients:
⅓ cup icing sugar (42g)
1 tablespoon espresso
1 tablespoon water
3 tablespoons unsalted butter, melted (21g)
3 tablespoons plain (23g)
Serves: Makes 20
Preparation time: 20 minutes
Method:

Preheat oven to 150° C.
In a bowl add in water, warm espresso, and warm melted unsalted butter. Mix well. Then stir in confectioners' sugar. Finally sift in all-purpose flour. Whisk until homogeneous. The batter will be very liquidy. Let chill in the refrigerator for one hour.
On a silicone mat, or a greased pan, make disks with a teaspoon of batter. Spread the batter flat with the back of the teaspoon.
Bake for 10 to 12 minutes, or until dry and set.
Out of oven, immediately transfer the disks to a rolling pin. And press the ends of the wafers to form roof tiles.