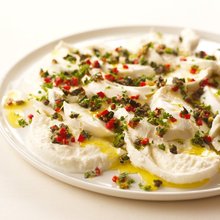 Mozzarella With Gremolata
---
Ingredients:
2 balls buffalo mozzarella
1 long red chilli (deseeded and finely chopped)
6 black olives (finely chopped)
zest of 1 unwaxed lemon
½ clove garlic (crushed)
½ teaspoon maldon salt (or 1/4 teaspoon table salt)
3 tablespoons extra virgin olive oil
2 tablespoons fresh parsley (finely chopped)
Serves: 6
Method:

Slice the mozzarella into 5mm / ¼ inch-thick rounds and arrange on a plate.
In a bowl mix the chopped chilli with the chopped olives, lemon zest and crushed garlic.
Tip in the salt, oil and parsley and stir together to make your c-c-c-c-razy gremolata.
Spoon the gremolata down the centres of your slices of mozzarella.