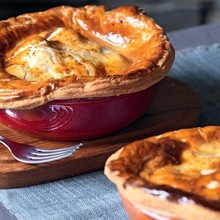 Steak, Guinness & Stilton Pie
---
Ingredients:
1kg beef chuck, flank, shin or brisket, trimmed, cut into 2cm cubes
440ml can Guinness
12 thyme sprigs
2 garlic cloves, crushed
1 teaspoon black peppercorns
1/4 cup (35g) plain flour, seasoned
1/4 cup (60ml) olive oil
8 eschalots, peeled
1 tablespoon Vegemite
Celery salt, to taste
3 sheets frozen shortcrust pastry
3 sheets frozen puff pastry
2 egg yolks, lightly beaten with a fork
100g Stilton or other strong blue cheese
Serves: 6
Preparation time: 30 minutes
Method:

Combine beef with Guinness, thyme, garlic, pepper and 1/4 cup (60ml) water. Refrigerate for at least 3 hours. Drain beef (reserving marinade), pat dry with paper towel, then coat in flour. Heat 1 tablespoon oil in a casserole over medium-high heat and brown a third of the beef all over. Repeat with remaining oil and beef, then return meat to pan with eschalots, marinade and Vegemite. Bring to a simmer, stirring to combine, then cover and cook gently over low heat (or in oven at 150°C) for 2 hours or until beef is tender.
Season with celery salt and cool. Discard thyme. Preheat oven to 180°C.
Grease six 14cm pie dishes. Cut 6 discs from shortcrust for bases, and six from puff pastry for lids. Line bases with shortcrust, then fill with beef and crumble cheese over top. Brush pastry edge with some of the egg, top with lids and crimp edges firmly with your fingers or the back of a fork to seal. Brush with more egg and bake for 25-30 minutes until the pie tops are golden and the bases are crisp.