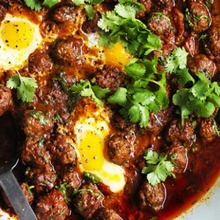 Meatballs & Eggs In Spicy Tomato Sauce
---
Ingredients:
500g minced beef
1 medium onion, grated
sea salt, to season
3/4 cup olive oil
1 small bunch coriander, finely chopped (reserve some leaves, to serve)
1 tbsp smoked paprika
1 tbsp ground cumin
1 tbsp ground coriander
1 tbsp ground fennel seeds
2 tsp ground black pepper
400g tin chopped tomatoes
3 cloves garlic, crushed
2 eggs
couscous, rice or steamed potatoes to serve
Borrowed from Neil Perry at goodfood
Serves: 4
Preparation time: 30 minutes - 1 hour
Method:

Combine the mince and onion in a large bowl and season with sea salt. Cover with plastic film and refrigerate overnight.
Wet your hands slightly to help stop the meat from sticking and roll into 2-centimetre balls.
Heat a large, deep frying pan over a high heat. Add the oil, and just before it starts to smoke add the meatballs in two separate batches. Brown the meatballs and remove from the pan.
Reduce the heat to medium, and fry the garlic for 4 minutes or until tender. Add the herbs, spices and tomatoes, and cook on a low simmer for 5 minutes. Add the meatballs and simmer for a further 5 minutes, shaking the pan from time to time.
Crack the eggs into the pan, cover and simmer for 5 minutes or until the whites have set (the yolks should be soft).
Place the pan in the middle of the table, scatter with reserved coriander leaves, and serve immediately.
Serve with couscous, rice or steamed potatoes