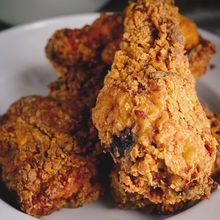 Thai Red Curry Fried Chicken
---
Ingredients:
Marion's Kitchen Thai Red Curry, which includes:
THAI RED CURRY PASTE
COCONUT MILK
DRIED THAI HERBS & CHILI
4 chicken breasts, cut in to pieces
1½ cup plain flour
½ cup corn flour (cornstarch)
1 tsp baking powder
2 tsp sweet paprika
sea salt
oil for frying
Borrowed from Marion Grasby at Marion's Kitchen
Serves: 4
Preparation time: 45 minutes
Method:

In a large bowl whisk together the THAI RED CURRY PASTE, COCONUT MILK and the DRIED THAI HERBS & CHILI. Add chicken pieces. Cover and refrigerate for at least 4 hours and ideally overnight.
To coat the chicken, place the plain flour, corn flour, baking powder, paprika and 2 teaspoons of salt in a large baking tray. Whisk to combine. Add 3 tablespoons of the red curry marinade mixture and work it into the flour mixture with your fingers.
Pick up one piece of chicken and allow excess red curry marinade to drip off. Place the chicken into the flour mixture and toss to coat, pressing flour firmly onto the chicken. Repeat with remaining chicken pieces.
Preheat your oven to 180°C (350°F).
Fill a deep frying pan with oil to 5cm deep. Heat oil to 180°C or until a cube of bread turns golden in about 15 seconds. Add chicken pieces (do this in batches if necessary) and fry for 6 minutes or until golden on one side. Flip the chicken cook for a further 4-5 minutes or until evenly golden. Transfer chicken pieces to a wire rack set on a rimmed baking sheet and place in the oven. Cook for 5-10 minutes or until cooked through.