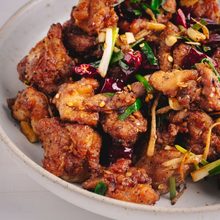 Sichuan Chilli Chicken
---
Ingredients:
800g boneless chicken breast fillets, cut into bite-sized pieces
1 tbsp Sichuan peppercorns
3 tbsp light soy sauce
2 tbsp Chinese Shaoxing wine
1 tsp white sugar
1 cup plain flour
vegetable oil for shallow frying, plus 1 tbsp extra
6 garlic cloves, roughly chopped
5cm-piece ginger, peeled and sliced into fine strips
10 dried long red chillies, cut into thirds, seeds discarded
5 spring onions (scallions), cut into 3cm batons
Marinade:
3 tbsp light soy sauce
1 tbsp Chinese Shaoxing wine
1 sesame oil
Borrowed from Marion Grasby at Marion's Kitchen
Serves: 4
Preparation time: 30 minutes
Method:

Combine marinade ingredients in a large bowl with the chicken.​ Set aside until ready to cook.
Place Sichuan peppercorns in a dry frying pan or wok over medium-high heat. Toast the peppercorns, shaking the pan regularly, until they are aromatic and just starting to smoke. Transfer to a mortar and pestle and grind to a fine powder.
Make the stir-fry sauce by mixing together the soy sauce, Chinese Shaoxing wine and sugar.
Place the flour in a large tray or bowl. Add the marinated chicken pieces and toss to coat. Shake off excess flour before frying the chicken pieces.
Fill a saucepan or wok to about 1/3 capacity with the vegetable oil. Heat over high heat. Once the oil is hot (325°F or 165°C or when a wooden spoon dipped into the oil forms small little bubbles) cook chicken in batches until golden and cooked through (about 3-4 minutes). Drain on paper towel.
Heat 1 tbsp of oil in a clean wok or large frying pan over high heat. Add the garlic and stir-fry for 10 seconds. Then add the ginger and dried chillies. Then add the cooked chicken, Sichuan pepper powder, spring onions and the stir-fry sauce mixture. Stir-fry until well combined. Remove from heat and serve.