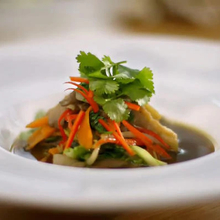 Stir-Fried Oyster Mushroom Broth
---
Ingredients:
4 tsp sesame oil
1 shallot, peeled and finely sliced
1 garlic clove, finely sliced
1 thyme sprig
20g dried mushrooms, chopped
300g flat mushrooms, thinly sliced
2 pinches of sea salt
2 pinches of freshly ground white pepper
2 tsp soy sauce
For the garnish
2 tsp sesame oil
125g carrot, sliced
5g finely chopped ginger
1 chilli, seeds removed, chopped
300g oyster mushrooms
40g bean sprouts
pinch of salt
pinch of black pepper
200g Chinese lettuce
10g coriander leaves
4 spring onions, sliced
squeeze of lemon juice
This gently spicy broth is influenced by Oriental cooking where oyster mushrooms are considered a delicacy. It is a wonderfully easy way to celebrate wild mushrooms.
Serves: 4
Preparation time: 1 hour
Method:

For the mushroom consommé base, heat the sesame oil in a large sauté pan or large frying pan over medium heat, sweat the shallot, garlic, thyme and dried mushrooms for 5 minutes or until soft.
Add the flat mushrooms and season with a pinch of salt and pepper. Cover with a lid and cook for 5 minutes.
Add 300 ml (10 fl oz) water and the soy sauce. Bring to a simmer and cook for a further 15 minutes. Strain through a fine sieve, taste and adjust the seasoning if required.
For the garnish, heat the oil in a sauté pan or frying pan over medium heat. Fry the carrot, ginger and chilli for 2 minutes. Add the mushrooms and bean sprouts then season with salt and pepper. Continue to cook for a further minute.
Stir in the remaining ingredients and cook for 1 minute. Remove from the heat, taste and adjust the seasoning, if required.
To serve, divide the vegetables between 4 bowls and pour over the hot mushroom broth.