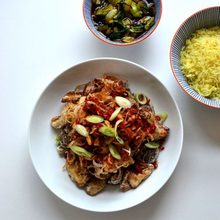 Salt & Pepper Oyster Mushrooms
---
Ingredients:
500 ml vegetable oil
5 small shallots, thinly sliced
3 garlic cloves, chopped
2 long red chillis, deseeded and thinly sliced
125 g oyster mushrooms, torn into strips
50 g cornflour
1 spring onion, green part only, very thinly sliced
salt and pepper
Serves: 4
Preparation time: 1 hour
Method:

Put the oil in a wok or large saucepan and heat to about 160°C, or until a small piece of bread sizzles and turns golden within 20 seconds. Add the shallots to the pan and stir gently, watching closely for the first signs of them turning golden (this should take a couple of minutes). As soon as the shallots start to change colour, carefully remove them from the oil using a small sieve. Drain on kitchen paper, sprinkle with salt and leave to cool.
Check the temperature of the oil and turn off the heat if it has become too hot. When the oil is back to 160°C, prepare the garlic in exactly the same way.
Check the temperature of the oil again, then deep fry the chillies - as they are a little more prone to burning, we find it easier to deep-fry them in a small sieve, dipping them in and out of the oil until they show the very first signs of going crispy.
Bring the oil up to 200°C. In a bowl, toss the mushrooms in the cornflour until they're completely coated. Working in batches, shake off any excess cornflour and deep-fry half of the mushrooms, stirring them occasionally with a spoon. When they start to look nice and crispy, remove them from the oil with a slotted spoon. Drain on kitchen paper and season generously with salt and pepper. Repeat with the remaining batch.
Transfer the mushrooms to a plate, sprinkle over the garlic, chilli, shallots and spring onion and serve.