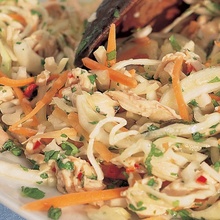 Vietnamese Chicken & Mint Salad
---
Ingredients:
1 hot thai chilli (seeded and minced)
1 fat clove garlic (peeled and minced)
1 tablespoon granulated sugar
1½ tablespoons rice wine vinegar
1½ tablespoons lime juice
1½ tablespoons thai fish sauce
1½ tablespoons vegetable oil
½ medium onion, finely sliced
black pepper
200 grams shredded white cabbage
1 medium carrot (shredded or grated)
200 grams cooked chicken breasts (shredded or cut into fine slices)
1 fat bunch of mint (about 40g / 1½ cups leaves) finely chopped
Borrowed from Nigella
Serves: 2 - 4
Preparation time: 15 minutes
Method:

In a bowl, combine the chilli, garlic, sugar, vinegar, lime juice, fish sauce, oil, onion and black pepper to taste. Put to one side for half an hour.
Then in a big plate or bowl, mix the cabbage, carrot, chicken and mint.
Pour over the onion-soused, chilli-flecked dressing and toss very well - slowly and patiently - so that everything is combined and covered thinly.
Taste to see if you need salt or pepper.
Serve on a flat plate with maybe a bit more mint chopped on top.