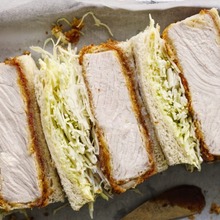 Katsu Finger Sandwiches
---
Ingredients:
4 pork loin chops, bone removed
1-2 litres canola oil, for deep frying
1 cup plain flour
5 eggs, beaten
3 cups panko breadcrumbs
2 tbsp salted butter, softened
12 thick slices white bread
¼ tsp hot English mustard
¼ cup Japanese mayonnaise
2 cups finely shredded cabbage
Quick tonkatsu sauce
½ cup tomato sauce (ketchup)
2 tbsp Worcestershire sauce
1 tbsp soy sauce
½ tsp English mustard
Borrowed from Adam Liaw at Goodfood
Serves: 8 - 10
Preparation time: 1 hour
Method:

For the quick tonkatsu sauce, mix together all of the ingredients.
With the back of a heavy knife, pound the chops in a cross hatch pattern to tenderise them. Push the pork back into its original shape.
Heat the oil to 175C. Dip the pork pieces into the flour, then the egg, then back into the flour, then back into the egg, and finally into the panko, ensuring each is coated completely. Fry 2 of the crumbed pork pieces for 5 minutes, turning once or twice during the cooking process.
Repeat for the other 2 pieces. Drain on a wire rack, standing each chop on its thin end for better drainage. Allow to cool and drain for 5 minutes. Butter the bread. Place three slices of bread side by side on a tea towel and spread over the tonkatsu sauce. Combine the mustard and mayonnaise and spread that mixture over three further slices of bread.
Place two pork pieces along the length of the three slices of bread on the tea towel, top with a little shredded cabbage, then place the mustard-mayonnaise bread on top. Fold the tea towel over the sandwiches and place a chopping board on top to press them for 10 minutes. Cut the crusts off each sandwich and cut each into thirds.
Repeat for the remaining bread and cutlets, then serve.