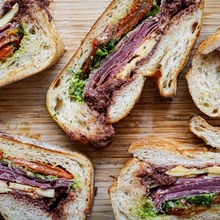 Mega Muffuletta
---
Ingredients:
Olive tapenade
¾ cup pitted kalamata olives
2 piquillo peppers (marinated red capsicums)
¼ cup olive oil
¼ red onion, chopped
1 clove garlic
1 tsp chilli flakes, or to taste
1 tbsp chopped oregano
Basil and lemon pesto
1 clove garlic, chopped
large bunch of fresh basil, leaves pulled
50g pinenuts, toasted
4 tbsp olive oil (you may need more if pesto is a little thick)
50g parmesan
To assemble
1 x large loaf of bread (ciabatta or sourdough work well)
½ cup smoked semi-dried tomatoes
generous ½ cup basil and lemon pesto
100g salami
100g mild sopressa salami
100g prosciutto
175g mozzarella, sliced into 1cm thick slices
¾ cup olive tapenade
Serves: 4 - 6
Preparation time: 1 hour
Method:

To make the olive tapenade add all ingredients to a blender and pulse briefly. Season with salt and pepper and pulse again if needed – you want a slightly runny tapenade type consistency. Set aside (this makes slightly more than you need).
Rinse out the blender and add the ingredients for the pesto. Blitz, adding more olive oil if required, until a chunky pesto consistency is achieved. Don't overwork the pesto – pulse briefly until the ingredients just come together. Set aside.
Using a serrated knife, remove the top of the loaf lengthways, and set aside – this will become the lid. Using your hands, pull some of the bread filling from the centre of the loaf, until you only have a little bread and mostly crust remaining.
Arrange the semi-dried tomatoes in a single layer across the base. Don't try to drain the oil, the little residual oil soaks beautifully into the bread. Top with generous spoonfuls of pesto, and using the back of a spoon, smear the pesto over the tomato layer. Layer the cured meats across the top of the pesto. Don't worry about being particular, you just want it to look relatively even.
Top with the mozzarella slices in a single layer then dollop over the olive tapenade. Gently sandwich with the 'lid' of the loaf. Place a chopping board on top of the loaf and stack with a few cookbooks or whatever you have handy, to put a little pressure on the bread. You don't want it to flatten but you want some pressure so the ingredients compress within the loaf and all the flavoured oils spread through the sandwich.
When ready to serve, use a serrated knife and cut the loaf into generous slices – at least 5cm thick – the slices need to be thick so the filing doesn't collapse everywhere. If using a round loaf, slice into generous wedges instead.