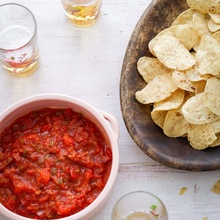 Simple Tomato Salsa
---
Ingredients:
1 - 2 x 15ml tablespoons regular olive oil
1 small red onion (peeled and finely chopped)
2 fat cloves garlic (peeled and finely grated or minced)
1 teaspoon cumin seeds
1 teaspoon sea salt flakes
3 fresh jalapeno peppers (finely chopped with seeds intact)
2 x 400 grams cans good quality chopped tomatoes
Borrowed from Nigella
Method:

Heat 1 tablespoonful of oil in a medium, heavy-based saucepan over a medium heat, and cook the finely chopped red onion, stirring every now and again, until it's soft but not coloured (beyond its natural hue) in any way, about 5 minutes, adding more oil if necessary - it rather depends on the diameter of your saucepan. Add the garlic to the pan, and give it a good stir before adding the cumin, salt and jalapenos.
Cook, stirring, for another minute, with the heat a little higher, making sure nothing catches, then tip in the canned tomatoes, stir well, and when it comes to a bubble, lower the heat slightly and simmer for about 15 minutes. You want the sauce to thicken and gain in richness.
Check for seasoning, and pour into a bowl to cool before serving with the tortilla chips of your choice.