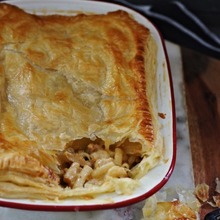 Cauliflower & Macaroni Cheese Pie
---
Ingredients:
½ head cauliflower, chopped into florets
½ tbsp olive oil
1 tsp sweet smoked paprika
2 cups cooked macaroni (from about 125g uncooked pasta)
½ cup smoked cheddar, grated
½ cup gouda, grated
½ cup mozzarella, grated
1 cup cream
½ cup milk
1 tsp mustard powder dissolved in 1 tsp hot water
445g puff pastry sheet, defrosted in the fridge
Egg wash
1 egg and 1 tbsp milk, whisked together
Borrowed from Katrina Meynink at goodfood.
Serves: 4 - 6
Preparation time: 1 - 2 hours
Method:

Preheat oven to 150C.
Place the cauliflower pieces on a roasting tray. Drizzle with olive oil and add the paprika. Use your hands to massage the oil and paprika into the cauliflower until thoroughly coated, then roast until golden, about 30 to 40 minutes.
Add the roasted cauliflower, macaroni and grated cheeses to a large saucepan. In a separate bowl, combine the cream, milk and mustard powder mixture,then add to the saucepan. Cook over low-medium, stirring to coat, until the cheese has completely melted. Season generously with salt and pepper then transfer the filling into a six-cup capacity pie dish.
Increase the oven to 180C.
Gently cover the cheesy filling with the pastry sheet and use a fork to press down the edges around the pie dish. Generously brush the pastry with the egg wash and bake for 20 to 30 minutes or until the top appears puffed and golden.