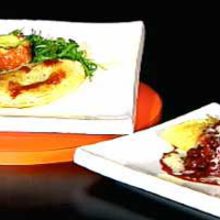 Pasties
---
Ingredients:
250g pork & veal mince
3 small potatoes, small dice
1 medium brown onion, small dice
2 medium carrots, small dice
1 medium zucchini, small dice
150g pumpkin, small dice
1/4 cup parsley, chopped finely
salt & pepper to taste
4 sheets shortcrust pastry
1 egg beaten, for glaze
Method:

Heat a frypan with a little vegetable oil, gently. Add onion, mince, carrot, zucchini and pumpkin. Cook until ingredients are tender.
Remove from heat and allow to cool.
Using a large pastry cutter, cut pastry in to circles. Using a pastry brush lightly brush edges of the pastry with the egg mixture.
Place a small amount of the mixture into the centre of the pastry and fold the two sides together to form a half circle. Pinch edges to form a frill.
Brush pastry with egg mixture and place on a baking tray in a moderate oven for 15 minutes.