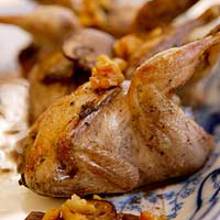 Quails Braised in Red Wine With Mushrooms & Walnuts
---
Ingredients:
2 small brown onions
4 cloves garlic
butter
8 quails
150ml red wine
500ml chicken stock
250g field mushrooms
50g butter
60g roasted walnuts
Method:

Preheat oven to 180C. Peel and finely dice onions and garlic. Heat butter in a roasting pot, add onions and garlic and saute for 2-3 minutes. Add quails and sear all over. Season with salt and freshly ground black pepper. Add red wine and stock, cover and cook in the oven for 15 minutes. Remove quails and place on to a baking tray and set aside.
Place braising liquid into a saucepan and reduce by half. Increase oven temperature to 200C. While the sauce is reducing, slice the mushrooms. Heat butter in a frypan and saute mushrooms until all the water from them has evaporated and the mushrooms are crisp. Add the walnuts and toss through.
To serve, place the quails back into the oven to warm through and crisp the skin. Place on to a platter, spoon over some sauce, mushrooms and walnuts.