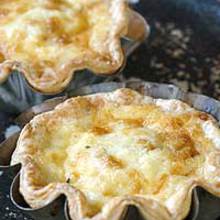 Onion & Gruyere Tart
---
Ingredients:
butter puff pastry
4 individual fluted tart shells
250g white or brown onions
25g butter
2 eggs
125ml cream
40g gruyere cheese
salt and freshly ground black pepper
pinch ground nutmeg
Serves: 4
Method:

Preheat oven to 200C.
Line the tart shells with puff pastry. Blind bake for 8-10 minutes until pastry is just cooked. Set aside.
Peel and finely slice the onions. Heat butter in a frypan over a low heat and add onions. Saute until they are soft and lightly browned, and set aside.
Whisk together eggs, cream and gruyere. Season with salt, pepper and nutmeg.
Spread the onion over the bottom of the tart shells. Pour over the egg mix. Turn the oven down to 180C and bake for 35-40 minutes until golden.