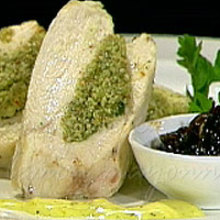 Chicken Stuffed With Roasted Almond Pesto
---
Ingredients:
4 chicken breast fillets
1 cup almonds
chilli to taste
4 tblspns chopped Italian parsley
1 clove garlic, chopped
up to 1/2 cup olive oil
Serves: 4
Method:

Roast almonds for 12 minutes at 180C.
Put all the stuffing ingredients except the oil into the bowl of a food processor. Slowly add enough oil to bring the ingredients together - the texture should remain fairly coarse. Season with salt and pepper.
Slice the chicken breasts lengthwise through the thickest part so that it opens out and sits flat on the bench.
Put the pesto onto the breast and roll up.
Brush a length of alfoil with oil and wrap up the breast. Twist the ends together to make a tight parcel.
Bake at 180C for 20 minutes or until firm. When cooked, allow to rest then slice on the diagonal. Serve with mayonnaise and onion jam.