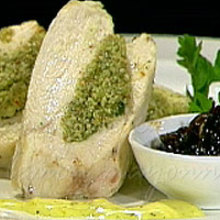 Onion Jam
---
Ingredients:
4 large brown onions, thinly sliced
4 tblspns olive oil
2 cloves garlic
1/2 cup brown sugar
1/2 cup balsamic vinegar
2 star anise
1 cinnamon stick
chopped fresh chilli to taste
Method:

In a saucepan, lightly saute the onions, garlic and chilli in the oil, add the sugar and vinegar, the start anise and cinnamon stick.
Cook on a low heat, stirring occasionally, for about 1 hour until the onions are dark brown and sticky.
Adjust for seasoning and to balance the sweet and sour.