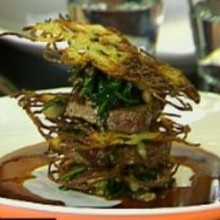 Beef & Roesti Stack With Asian Greens, Mushrooms & Red Wine Glaze
---
Ingredients:
800g beef fillet
2 large white potatoes
300g baby spinach
100g clarified butter or ghee
200ml red wine glaze
salt, pepper to taste
olive oil to taste


RED WINE GLAZE
100ml port
200ml red wine
50g onion
salt, pepper to taste
beef glaze
Serves: 4
Method:

Peel the potatoes and place on a Japanes slicer. Put the resulting potato string in a bowl and add some clarified butter or ghee, salt and pepper.
Spread small amount of potato on to baking paper in the shape of small discs. Bake in an oven at 170C until golden brown.
Slice the beef fillet into small medallions, rub with olive oil and season with salt and pepper. cook the beef medallions to your liking.
Saute the Asian greens, mushrooms and garlic in a pan with a little olive oil.
Place some greens and mushrooms on the plate, then a roesti potato followed by a medallion of beef. Repeat two or three times.
Drizzle some red wine glaze around the stack and serve.
RED WINE GLAZE
Finely chop the onion and fry in a little oil.
Add the port and reduce by half, then add the red wine and reduce by half again.
Add the beef glaze and continue to reduce.