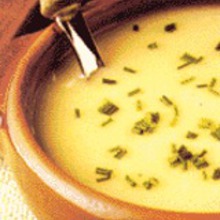 Vichyssoise
---
Ingredients:
2 tablespoons butter
1 large onion, chopped
2 leeks, chopped
2 tablespoon plain flour
4 cups chicken or vegetable stock
3 medium potatoes, peeled & cubed
salt & pepper to taste
1 cup low fat milk
A great winter recipe, this dish is best served HOT - never mind what the foody trendites might say.
Serves: 6
Preparation time: 20 minutes
Method:

Melt butter in large saucepan on medium heat.
Add onions and leeks, cook gently until soft.
Stir in flour, cook for 2 minutes.
Gradually stir in stock.
Add potatoes, bring to the boil, simmer gently for 30-40 mins or until potatoes are soft.
Stir in milk and seasonings.
Puree soup in a blender or with a hand held blender
Serve into soup bowls, garnish with chopped chives.