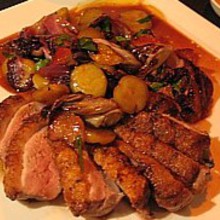 Seared Duck Breast With Chestnuts, Bacon & Radiccio Braised In Vino Cotto
---
Ingredients:
2 duck breasts
2 small radiccio
250ml frozen whole chestnuts
3 tblspns unsalted butter
2 rashers bacon
1 dessertspn brown sugar
1/4 cup Vino Cotto
sea salt
freshly cracked pepper
1/4 cup flat leaf parsley
Method:

Score duck breast and salt. You can also pour boiling water over the skin and then place uncovered in the refrigerator overnight to let set up with the pores open. This allows the skin to render beautifully.
Clean the radiccio and cut in to wedges, set aside.
Place the chestnuts in to a microwave proff container and add 1/4 cup water, cover and microwave on high for 2 minutes then let stand for 10 minutes. Once finished remove from water and cut in half.
Heat oven to 200C.
Heat a griddle plate or heavy based saute pan to very hot. Season the duck breasts and place skin side down on the griddle to sear. Let it get nice and brown, then turn and seal the other side for 1 minute. Place in the hot oven for 4 minutes to finish. Remove from oven and let rest on their fat edge, in a warm place.
Meanwhile, remove the rind from the bacon and crisp on griddle plate. Once cooked cut into small pieces and set aside.
Heat some of the butter to nut brown and when hot toss in the chestnuts to crisp and go light brown, season with sea salt and freshly cracked pepper. Remove the chestnuts and add the rest of the butter and when nut brown add the radiccio. Cook the radiccio and just as it starts to wilt add the brown sugar and season with sea salt and pepper. when the sugar has melted and radiccio is just about ready, deglaze the pan with Vino Cotto. Add the bacon and chestnuts.
To serve, place the salad on the plate and top with carved duck breast.
NB Duck should be carved at a slight angle and then fanned just a little. Top with the resting juices from the duck.