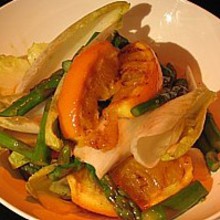 Grilled Orange, Asparagus & Witlof Salad With Vino Cotto Dressing
---
Ingredients:
2 bulbs witlof
1 bunch asparagus
1 large orange
4 tblspns extra virgin olive oil
2 tblspns Vino Cotto
1 tblspn melted butter
sea salt
freshly cracked pepper
Serves: 2
Method:

Slice the oranges into wedges and toss in a little extra virgin olive oil. Heat the grill plate and grill the oranges caramelising each side.
Pull the witlof apart and place in a bowl.
Fill a saute pan with water, season with salt and when boiling poach the asparagus to just bright green. Remove and toss in the melted butter.
Make vinaigrette with the Vino Cotto, the rest of the extra virgin olive oil, sea salt and pepper. Toss the witlof, orange and asparagus in the vinaigrette and serve immediately.