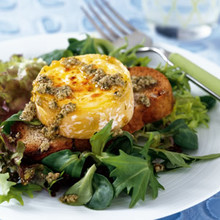 Goats Cheese Salad
---
Ingredients:
4 tomatoes, cut into wedges
1 bunch basil, chopped
1 tblspn balsamic vinegar
3 tblspns virgin olive oil
1 tspn salt flakes
ground black pepper
small goats cheese log
2 slices sourdough
1 clove garlic
4 tspns olive paste
1 bunch thyme
Serves: 4
Method:

Wash and cut each tomato into 8 equal wedges, arrange 8 pieces per person around the edge of each dinner plate and sprinkle with chopped basil leaves.
Make vinaigrette with balsamic vinegar, virgin olive oil, salt and pepper and pour across tomato pieces.
Cut the goats cheese log into 4 equal portions. Toast slices of sourdough and rub the garlic clove on each slice.
Cut 4 small circles from the bread slices to match the diameter of the cheese and spread each circle or crouton with olive paste. Place a cheese portion on each crouton, garnish with a sprig of thyme and place in the oven for 5 minutes at 180C. Finish with 2 minutes under the grill until golden brown.
Placed a grilled cheese crouton in the centre of each plate. Drizzle olive oil on each crouton before serving.