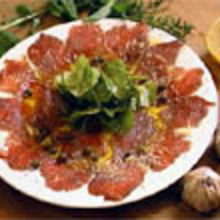 Carpaccio Of Venison
---
Ingredients:
300g venison fillet
1 tblspn capers
juice of 1 lemon
1 tbspn salt flakes
ground black pepper
100ml virgin olive oil
parmesan cheese, freshly grated
mesclun salad
virgin olive oil
balsamic vinegar
Serves: 4
Method:

Place venison fillet in the freezer for half an hour. Remove, cut into thin slices and flatten between two pieces of cling wrap.
Arrange the venison carpaccio on a plate and sprinkle with the capers and salt flakes. Squeeze lemon juice over the meat and then the olive oil.
Wash and dry salad leaves and mix with a vinaigrette made from virgin olive oil and balsamic vinegar.
Fill a coffee cup with the salad and tip it onto the centre of the carpaccio.
Finish with a generous sprinkle of freshly grated parmesan.