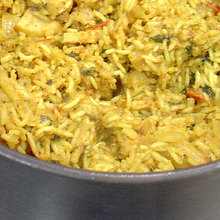 Lamb Biryani
---
Ingredients:
700g basmati rice
1kg diced lamb
250g fine chopped garlic
200g fine chopped ginger
200g yoghurt
500ml oil
1kg onions
5 green chillies, sliced
1 1tblspn garam masala
1 tblspn chilli powder
1 tspn turmeric
juice of 2 lemons
200g tomatoes
1 bunch coriander leaves
2 bunches mint leaves
5g cardamon
5g cloves
4 bay leaves
5 litres water
1g saffron
100g cashew nuts, fried
100g sultanas
100g butter
100g ghee
1 tblspn rose water
1 litre milk
Serves: Serves a crowd!
Method:

Wash the rice thoroughly and soak in water for 30 minutes.
Meanwhile, marinate the lamb with the yoghurt, ginger, garlic and salt to taste. Keep aside for at least 1 hour.
Heat the oil in a heavy bottomed saucepan and fry the onions until brown. take about 100g of fried onions and reserve for garnish.
Add the marinated lamb to the onions, plus garam masala, chilli powder, turmeric powder, half the lemon juice and diced tomatoes. Simmer, covered, over a low heat until the meat becomes tender. Add chopped mint and coriander, bay leaves, cloves and cardomon. This becomes the biryani masala.
Bring water to the boil, add salt and lemon juice, drain the soaked rice and add to the boiling water. When rice is half cooked, drain.
Taking another heavy bottomed cooking pot, layer the lamb biryani masala and the rice alternately, finishing with a layer of rice. Top with fried cashew nuts, sultanas, rose water, saffron, butter and the milk.
Cover with a cloth and seal tightly. Cook for at least 25 minutes over a slow fire. When steam emerges from the pot, remove from the heat and mix together.
Serve with Sarlas and lime pickle.