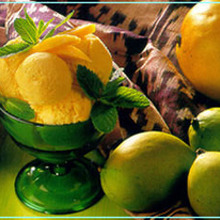 Mango Ice Cream
---
Ingredients:
2 cups ripe mango, peeled & diced
1 1/2 cups sugar
2 tblspns fresh lime juice
2 cups milk
5 egg yolks
1 cup cream
Method:

Combine mango, 1/2 cup sugar and lime juice in a non-metallic bow. Cover and refrigerate for 1 hour.
Make a custard by scalding the milk in a saucepan. Whisk the egg yolks and 3/4 cup of sugar in a mixing bowl. Add the hot milk in a thin stream while whisking. Return the mixture to the pan and cook over medium heat, uncovered, until thick enough to coat the back of a wooden spoon, about 3 minutes. Do not let it boil. Strain in to a bowl, and let cool to room temperature.
Stir the mango mixture in to the custard mixture. Stir in the cream. taste for sweetness and add more sugar if desired.
Freeze in an ice cream machine following the manufacturers instructions.