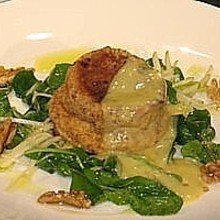 Gorgonzolla Souffle With Apple & Rocket Salad
---
Ingredients:
40g butter
40g plain flour
240ml warm milk
75g gorgonzolla piccante
4 tblspn grated parmesan
2 tblspn chopped parsley
4 eggs, separated
40ml olive oil
15ml lemon juice
1 apple, thinly sliced
1 handful bitter green leaves
1 handful walnuts
2 cups cream
1 tblspn gorgonzolla
1 tblspn parmesan
salt & pepper
Serves: 6
Method:

Preheat oven to 180C. Melt 20g butter, grease 6 souffle dishes and then line with crushed walnut flour.
On medium heat, melt butter. When butter is melted, add flour while stirring together. Cook until a golden blonde colour, approximately 5-8 minutes.
Add the milk, boil, then reduce heat and cook for 5 minutes. Mash the gorgonzolla cheese and add with parmesan and parsley.
Cool slightly, add egg yolks and season to taste.
Whisk egg whites to medium peaks, and fold in to cheese mix.
Pour into the molds, then bake in a water bath covered with foil for 20 minutes, or until well puffed.
Remove from moulds, put on plate and serve with cream reduced with gorgonzolla and parmesan.
Serve with sliced apple and bitter green leaves dressed with lemon juice and olive oil.