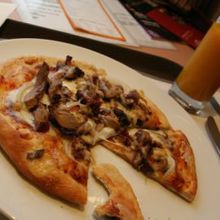 Organic Duck & Ginger Pizza
---
Ingredients:
DOUGH MIX
4 cups organic flour
2 tsp sugar
1 tsp salt
1.25 cups organic olive oil
1.5 cups warm water
20g fresh yeast
ROASTING MARINADE
free range duck
1 tsp white pepper
1 tsp ground cinnamon
1 1/2 tsp ground ginger
3/4 cup brown sugar
1/2 cup chinese rice wine
1/2 cup light soy sauce
1 tblspn sesame oil
2 tblspn peanut oil
1/2 tsp ground soy sauce
Method:

DOUGH MIX
Combine water, sugar, salt, yeast and olive oil until evenly mixed. Mix in flour until consistencey is even. Allow to settle at room temperature for one hour, then ideally hold chilled overnight.
SOY ROASTED FREE RANGE DUCK
Bake duck for about 2 hours at 300C or until cooked with crispy skin.
GINGER JAM
Blend in food processor equal quantities of raw ginger and spring onion, adding a teaspoon of raw sugar, plush a dash of chinese rice wine for every one cup of mix.
SHIITAKE MUSHROOMS
Soak and slice as per instructions on packet.
Flatten pizza dough and cover evenly with tomato sauce/paste, mozzarella cheese, duck, mushrooms and ginger jam. Place in a hot oven until bottom of pizza is crispy brown.