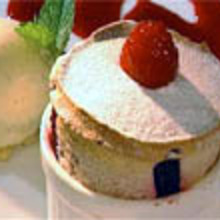 Raspberry Souffle
---
Ingredients:
200g raspberry coulis or puree
200g castor sugar
10 egg whites
100g castor sugar
1 punnet raspberries
icing sugar
Serves: 6
Method:

Pour most of the coulis into a small saucepan, reserving some to decorate the dish at the end. Bring raspberry coulis to a boil on gentle heat, stirring constantly to prevent mixture from sticking or burning. If sticking or burning occurs, transfer mixture immediately to another pan and keep going.
Stir in 1/3 of the sugar and bring back to the boil for 2 mins while continuing to stir. Add another 1/3 sugar. Bring to boil and simmer for 5 mins. Add final 1/3 sugar, bring back to the boil, stirring until mixture reaches jam consistency. Remove from pan and cool to room temperature.
Before preparing the meringue, use a pastry brush to butter 6 moulds with room temperature butter. Dust each mould with castor sugar and place in fridge to chill. Use raspberry coulis to pipe 3 or 4 thick stripes up the sides of each mould. Dip whole raspberries in the coulis and place 2 per serve at the bottom of each mould. set aside.
Beat egg whites in Mixmaster for about 2 minutes until they are slightly peaking. Continue whisking and add castor sugar until stiff and firm - this should take around 6-8 mins. In a separate bowl, combine a dollop of the raspberry base with a dollop or two of the meringue and carefully fold until mixed. Fill each mould, remembering to smooth off the tops with a knife.
Bake at 170C for approximately 8 mins or until fully risen. Serve immediately.