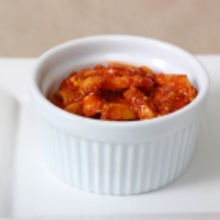 Mango Pickle
---
Ingredients:
2 large mangoes
10 tblspn fenugreek seeds
2 tblspn fennel seeds
2 tblspn onion seeds
2 tblspns mustard seeds
3 tblspns whole dried chillies
3 tblspns hot chilli powder
3 tblspns tumeric powder
2 tblspns asafoetida powder
10 tblspns salt
2 tspn sugar
2 cups mustard oil
Method:

Dry roast whole spices - fenugreek, fennel, onion seeds, mustard seeds and whole chillies - in a pan, and blend coarsley in a spice blender. Mix ground spice with powdered spices, salt and sugar. Add the mangoes to the spices, and put in a pre-sterilised jar. Leave for 3 - 4 days covered.
Heat mustard seed oil to smoking point and then let it cool. When cold, add to the mango and spice mixture, and make sure it covers all the ingredients.
Cover the jar and stir the contents at intervals of 5 - 6 days for a period of 1 month. The pickle will then be ready to serve with curries.