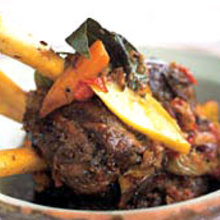 Braised Moroccan Style Baby Lamb Shanks
---
Ingredients:
small pinch saffron threads
3 tspn fennel seeds
2 whole star anise
10 cardamom pods
1/2 tspn cumin seeds
1/2 cinnamon quill
1/2 tspn Sichuan peppercorns
2 large red chillies, deseeded & chopped
8 garlic cloves, crushed
knob ginger, sliced
3/4 cup finely sliced coriander
30g turmeric, finely sliced
75g galangal, roughly chopped
1/3 cup finely sliced red shallots
1/4 tspn sweet paprika
1 cup extra virgin olive oil
1/4 cup palm sugar
1/4 cup fish sauce
8 baby lamb shanks
3 tomatoes, roughly chopped
6 potatoes, peeled & cut into wedges
2 carrots, peeled & cut into wedges
5 salad onions, trimmed and cut into quarters
4 fresh dates, halved
4 fresh apricots, halved
6 bay leaves
3 cups chicken stock
juice of 2 limes
1 tblspn fish sauce
Serves: 4
Method:

First, make the paste. Combine saffron with 2 teaspoons of boiling water and set aside. Put fennel seeds, star anise, cardamom pods, cumin seeds, cinnamon and Sichuan peppercorns in a small frying pan and dry-roast over high heat for about 2 minutes, or until fragrant. Pound roasted spices with a pestle and mortar until cardamom is bruised. Discard cardamom husks and keep pounding until all the spices are finely ground. Set aside.
Pound chillies, garlic, ginger, coriander, turmeric and galangal with the pestle and mortar until you have a coarse paste. Add 2 teaspoons sea salt and 1 teaspoon white peppercorns, and pound until peppercorns are lightly crushed. Add shallots, saffron water, paprika, reserved ground spices and oil, and mix well to combine.
Put paste in a medium sized frying pan and cook over high heat for about 5 minutes, or until fragrant. Reduce heat and simmer gently, stirring occasionally, for 15 minutes. Add palm sugar and fish sauce. Increase heat and simmer, stirring occasionally, for a further 2 minutes, or until mixture is slightly caramelised. remove from stove and set aside.
Meanwhile, preheat oven to 180C. Season lamb shanks with salt and pepper and seal in a hot, oiled roasting tin on the stove until lightly browned on all sides. Drain off any excess and drizzle prepared paste over lamb, combining over high heat to coat well and seal in flavours. add tomatoes, potatoes, carrots, onions, dates, apricots and bay leaves, and stir to combine. Remove tin from stove, pour over stock and cover with foil. Bake for 45 minutes, then remove foil and bake for a further 1 hour, or until lamb is very tender and well browned.
Remove lamb from oven and drizzle with lime juice and fish sauce before serving.