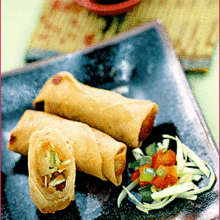 Hoisin Duck Wonton Rolls
---
Ingredients:
1/2 chinese barbecue duck, finely shredded
4 green onions (shallots), thinly sliced
2 tspns hoisin sauce
1 tspn finely grated ginger
20 wonton wrappers
2 tblspns water
vegetable oil for deep-frying
hoisin sauce, to serve
Serves: 20
Preparation time: 20 minutes
Method:

In a medium bowl, combine duck, onion, sauce and ginger.
Place 2 teaspoons of duck mixture on one corner of wonton wrapper. Brush edges lightly with water. Fold corner and sides over filling. Roll up firmly, forming a sausage shape.
Heat oil in a wok on medium, until a cube of bread sizzles immediately. Deep-fry wontons, in 5 batches, for 2-3 minutes, until golden and cooked through. Remove from oil with a slotted spoon. Drain on paper towel.
Serve wontons immediately with hoisin sauce.