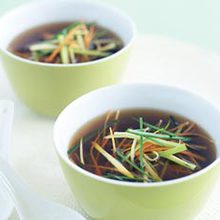 Chinese Pork Wonton Soup
---
Ingredients:
200g pork mince
1/4 cup water chestnuts, drained, finely chopped
1 tspn sesame oil
1 tspn soy sauce
1 red chilli, finely chopped
1 garlic clove, crushed
1/2 tspn finely grated ginger
20 wonton wrappers
2 tblspns water
2 litres chicken stock
4 fresh shiitake mushrooms, thinly sliced
100g coarsely chopped choy sum leaves
Serves: 4
Preparation time: 20 minutes
Method:

In a medium bowl, combine pork, water chestnuts, oil soy sauce, chilli, garlic and ginger.
Place 1 tablespoon of pork mixture in the centre of each wonton wrapper. Brush edges with water. Fold wonton corners into centre, forming an envelope shape. Using fingertips, press along edges to seal.
Meanwhile, bring stock to boil in a large saucepan. Reduce heat. Add wontons and simmer gently for 3-5 minutes until cooked through.
Add mushrooms and choy sum. Cook for 1-2 minutes, until choy sum begins to wilt.
Serve immediately.