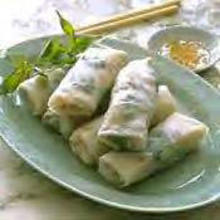 Cold Rolls
---
Ingredients:
2 chicken breast fillets, minced
1 clove garlic
1 tblspn fresh ginger
1 tspn lemongrass
3 chopped sping onions
2 handfuls fresh coriander
3 tspns lemon juice
1 packet rice paper
1/4 packet vermicilli noodles
1/2 cucumber, finely chopped
1 carrot, grated
shredded lettuce
Method:

Fry chicken, garlic, ginger, lemongrass, spring onions, coriander and lemon juice.
Put vermicilli in warm water for approximately 15 minutes.
Place a sheet of rice paper in a bowl of water until soft. Remove carefully.
Place a dessertpoon of chicken mix in the middle of a sheet of rice paper with vermicilli, lettuce, carrot and cucumber. Tuck in ends and roll up - do not make the rolls too big or they will fall apart.
Serve with sweet chilli or soy sauce for dipping.