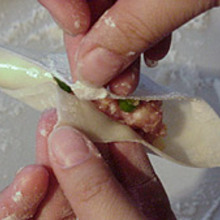 Steamed Mixed Mushroom Wontons
---
Ingredients:
1 cup finely chopped shiitake mushrooms
1 cup finely chopped oyster mushrooms
1 tblspn finely chopped Thai basil
2 green onions (shallots), thinly sliced
2 tspns kecap manis
2 garlic cloves, crushed
20 wonton (or gow gee) wrappers
2 tblspns water
soy sauce, to serve
Serves: 20
Preparation time: 20 minutes
Method:

In a medium bowl, combine mushrooms, basil, onion, kecap manis and garlic.
Using an 8cm cutter, cut rounds from each wonton wrapper. Place 2 teaspooons of mushroom mixture in the centre of each round.
Brush edges of wontons with water. Fold in half to form a semicircle. Pleat or pinch edges together to form a frill.
Line a large bamboo steamer with baking powder. Space wontons apart in steamer. Place over a pan of gently boiling water.
Steam, covered, for 4-5 minutes, until translucent and tender.
Serve immediately with soy sauce.