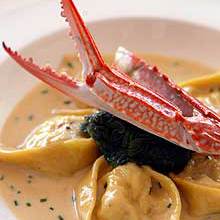 Blue Swimmer Crab Tortelloni
---
Ingredients:
CRAB MIX
300g blue swimmer crabmeat
1 lime, grated zest & juice
10ml olive oil
salt & pepper to taste
CHAMPAGNE CREAM SAUCE
1 large onion
3 garlic cloves
250ml champagne
250 ml fish stock
500ml cream
1/2 bunch chives, chopped
15g butter
CRAB TORTELLONI
fresh pasta
4 crab claws
200g spinach
1 egg yolk, lightly beaten
This is a more home-kitchen version of a dish from Bologna in the Emilia-Romagna region. Saffron can be added to the basic pasta recipe, which balances out the sweet meat of the blue swimmer crab nicely.
Method:

For the crab mixture: Saute the crabmeat in olive oil and season with salt and pepper. Add the lime zest and juice and cook until just slightly done. Drain well.
For the sauce: Saute onion and garlic until soft. Add champagne and reduce by two thirds. Add fish stock and reduce by two thirds. Add cream, reduce by two thirds and strain. Add chives and whisk in butter.
For the tortelloni: Use a biscuit or ravioli cutter to cut pasta into medium-sized circles and fill with equal quantities of crab mix. Brush edges of pasta with egg yolk and fold over. Pinch the edges together and join in the middle with more egg yolk.
Cook 6-8 minutes in salted boiling water until al dente.
Heat the sauce and toss through the tortelloni. Saute the spinach and drain. Cook the crab claw.
Serve the tortelloni in a bowl with the spinach in the middle and the crab claw on the top as a garnish.
The tortelloni can be made in advance and refrigerated or kept longer in the freezer.