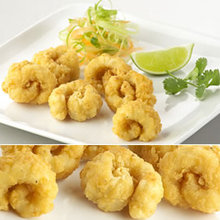 Salt & Pepper Squid
---
Ingredients:
300g squid
1 tblspn cornflour
1 tblspn plain flour
5 tspn sea salt
2 tsp crushed Sichuan peppercorns
vegetable oil for frying
4 small lettuce leaves, chilled
2 lemons, halved
Serves: 4
Method:

First, clean and score the squid.
In a large bowl, combine flours, salt and Sichuan pepper. Add squid and toss to coat, shaking off any excess flour.
Heat oil in a wok until surface seems to shimmer slightly. Add half the squid and deep fry for about 1 1/2 minutes or until just tender and beginning to colour. Remove with a slotted spoon and drain well on kitchen paper.
Repeat process with remaining squid.
Serve immediately with lemon (or lime) halves, as a starter.