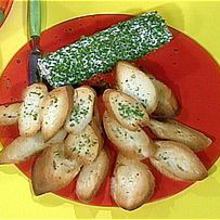 Herb & Goats Cheese Toasts
---
Ingredients:
1 baguette, sliced
250g fresh goats cheese
12 blades fresh chives
2 sprigs fresh rosemary
1/4 cup flat leaf parsley
black pepper
Serves: 4
Preparation time: 10 minutes
Method:

Toast sliced baguette under grill until golden on each side. Remove and arrange on a serving plate.
Chop and combine fresh chives, rosemary and parsley. Add coarse black pepper to taste.
Remove goats cheese log from packaging, and roll in the herbs to coat evenly. Set alongside toasts.
Using a cheese knife, spread herbed cheese on warm toasts.