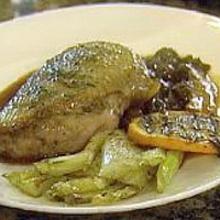 Duck Breast With Sour Cherries
---
Ingredients:
6 duck breasts
2 cups drained sour cherries
2 sprigs rosemary
freshly ground black pepper
sea salt
extra virgin olive oil
2 tblspns vino cotto
1/2 cup reduced duck/veal stock
2 tblspns cold unsalted butter, cubed
orange
fennel
Method:

Preheat oven to 200C.
Score duck breats with diagonal lines cutting through the fat, and rub with salt and chopped rosemary.
Cook on a grill plate (or hot pan with buter and olive oil) for 3 minuets, skin side down. Flip for a few seconds to seal the other side. Put aside on a small roasting tray with shallow sides. Drizzle with a little olive oil to moisten, and strip one of the sprigs of rosemary.
Place in to oven for final cooking - serve pink.
To make the sauce:
Take butter to nut brown with a dash of oil to inhibit burning. Add well-drained cherries and remaining rosemary sprig. Season well with freshly ground black pepper. Deglaze the pan with vono cotto.
Add reduced stock and boil down to a syrupy glaze. Add buter at the last moment before serving.
Slice fennel and orange slices diagonally, oil and place on griller and caramelize.
Serve.