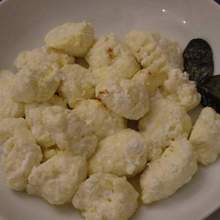 Ricotta Gnocchi With Lemon & Thyme Butter
---
Ingredients:
250g ricotta cheese
1/4 cup finely grated parmesan cheese
1 egg, lightly beaten
1/2 cup plain flour
1/4 cup flat-leaf parsley, chopped
sea salt
cracked black pepper

Lemon & Thyme Butter
80g butter
2 tspns thyme leaves
2 tspns finely grated lemon rind
2 tspns lemon juice
Serves: 4
Method:

To make the lemon and thyme butter, place the butter, thyme, lemon rind and juice in a small saucepan over low heat and stir until the butter is melted. Set aside and keep warm.
Place the ricotta, parmesan, egg, flour, parsley, salt and pepper in a bowl and mix well to combine. Turn out the mixture onto a lightly floured surface and roll into a 15cm long rope. Cut into 2cm lengths and press lightly with the back of a fork.
Cook the gnocchi in batches in a large pot of salted boiling water for 2-3 minutes or until cooked through. Remove with a slotted spoon and place in serving bowls. Spoon over the lemon butter and top with extra permesan to serve.