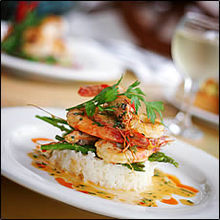 Ginger & Shallot Prawns On Coconut Rice Cake
---
Ingredients:
COCONUT RICE CAKE
1 1/2 cups sushi rice
1 cup water
1/2 cup coconut milk
1/4 cup rice vinegar
1/4 cup caster sugar
zest 1/2 lime
pinch of salt
PRAWN MARINADE
1 bunch spring onions
150g peeled ginger
2 cloves peeled garlic
1/2 bunch coriander
1/4 cup sesame oil
1/4 cup chinese cooking wine
500g prawn tails
Method:

To make rice cake: After washing the rice, place in a saucepan with a tight fitting lid. Add the water and coconut milk, cover, then reduce to a low heat.
Cook for 15 minutes and turn off heat. Stand for another 15 minutes to cook through.
Boil vinegar, sugar, lime zest and salt.
Place rice in a large bowl. Pour the vinegar liquid over and gently stir into the rice until the mix is quite shiny and cooled. Place in a tray to set. Portion into squares and fry in a pan until golden.
To make marinade: Blend the spring onion, ginger, garlic and coriander to a paste then add sesame oil and wine. Mix the marinade and prawns, and leave for 1 hour.
Sear prawns in a hot pan until just cooked.
To serve: Mix baby leaves with lime juice and olive oil. Place the rice cake on a plate, top with the cooked prawns and carefully top with lightly dressed leaves.