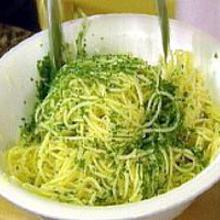 Spagettini
---
Ingredients:
500g spagettini
1 clove garlic
4 tspns capers
200g grated grana padana
1/2 cup chopped parsley
juice of 1/2 lemon
salt & pepper
30ml extra virgin olive oil
Method:

Bring a large pot of water to the boil. Add a generous amount of salt and cook spagettini to instructions. Drain in to a colander.
Fry capers in a tiny pan with a little olive oil. Take out and put on absorbant paper. Using the same oil, fry garlic being careful not to burn.
Add fresh oil to the drained spagettini pot (about 2 tablespoons), then the hot spagettini, the garlic and the parmesan. Mix to combine all and add capers. Check for seasoning then add parsley and a little more extra virgin olive oil to moisten.