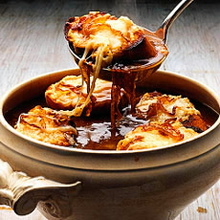 French Onion Soup
---
Ingredients:
60 g butter
4 large onions, thinly sliced
1 clove garlic, crushed
1 tblspn flour
2 x 440 ml cans beef consomme
1 tsp sugar
salt and pepper
stick French bread
125 g grated gruyere cheese
Serves: 4
Preparation time: 1 hour
Method:

Melt the butter in a large saucepan. When hot add the onions and garlic and fry gently for about 30 minutes, until the onions are soft and golden brown. Stir from time to time to prevent the onions from burning.
Remove the pan from the heat, add the flour and stir well. Return the pan to heat and cook stirring all the time for 1 minute. Remove the pan from the heat once more and gradually add the consomme, stirring until the mixture is smooth. Add sugar and salt and pepper to taste. Return the soup to the heat and bring to the boil. Lower the heat, cover with a lid and simmer gently for 30 minutes, stirring occasionally.
Cut the French bread into 1 cm thick slices. Place slices under a hot griller until they are golden brown. Sprinkle the bread with grated gruyere cheese.
Pour soup into an ovenproof tureen or individual bowls. Place the cheese sprinkled slices of bread on top of the soup. Place the soup in a moderate oven (180?C) and cook until cheese is bubbling and golden, about 8 to 10 minutes.