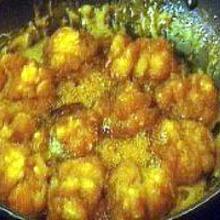 Golden Syrup Dumplings
---
Ingredients:
DUMPLINGS
1 cup self raising flour
pinch of salt
20g butter
1 egg
50ml milk

SAUCE
1 1/2 cups of golden syrup
1/2 cup water
60g butter
runny cream to serve
Method:

Sift self raising flour with a pinch of salt into a bowl. Rub in the butter then add the whisked egg and stir to combine. Add milk slowly till the dough resembles a scone mix. Set aside.
Combine all sauce ingredients into a large frypan with a fitted lid. Bring to the boil to amalgamate and turn down to simmer.
Meanwhile, flour your hands and roll the dough into the size of a 20 cent piece. Cover a dish with baking paper to put all the dough balls on, then slip the balls off the baking paper all together into the syrup. Cover with the lid and cook for about 10 minutes, then turn over to cook on the other side for another 10 minutes.
Remove with a slotted spoon and serve with the sauce and a jug of runny cream.