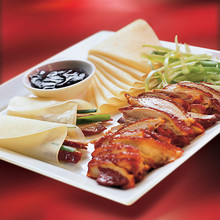 Peking Duck
---
Ingredients:
one whole duck, fresh or frozen (2kg)
1 lemon
1.1l water
3 tbsp honey
150 ml dry sherry or rice wine
8-12 Chinese pancakes
4-6 tbsp Hoisin sauce
16-24 spring onion brushes
3 tbsp dark soy sauce
The preparation of Peking Duck is a time consuming task,however this simplified method closely approximates the real thing. Be sure to allow yourself plenty of time. This dish is traditionally eaten with Chinese pancakes and spring onion brushes which are dipped in Hoisin Sauce. Tortillas can be substituted for the pancakes if so desired.
Serves: 4 to 6
Preparation time: 2 days with a fresh duck
Method:

If the duck is frozen thaw it completely. Rinse the duck well and blot it completely dry with kitchen paper. Insert a meat hook towards the neck.
Cut the lemon into 0.5 cm slices leaving the rind on. In a large pot combine the lemon pieces with the water,the honey,the dark soy sauce and the rice wine and bring to a boil. Turn the heat to low and simmer for 20 minutes.
Using a ladle pour the mixture over the duck several times until all of the duck has been coated with the syrup. Hang the duck in a cool,well ventillated place to dry for 24 hours. Place a tray under the duck to catch drips.
Once the duck has dried the skin will feel like paper to the touch.
To make the spring onion brushes, cut off the green part of the spring onion and trim off the base of the bulb. Make a lengthways cut about an inch long at one end of the spring onion. Roll the onion through 90 degrees and cut again. Repeat the process at the other end. Soak the spring onions in iced water and they will curl into brushes.
Preheat the oven to 240C. Place the duck on a roasting rack in a roasting pan. Put 150ml of water into the roasting pan to prevent the fat from splattering. Now put the duck into the oven and roast it for 15 min. Then turn the heat down to 180C and continue to roast for about 1hr 10min.
Remove the duck from the oven and let it sit for 10 min beore attempting to carve it.
Cut the skin and meat into pieces and arrange on a warm dish. Serve at once with Chinese pancakes,spring onion brushes and a bowl of Hoisin sauce.
The diner spoons a little sauce onto a pancake and meat is placed on top with a spring onion brush and the entire pancake is rolled up and eaten like a tortilla.