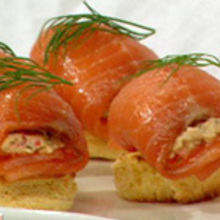 Smoked Salmon Bites
---
Ingredients:
24 slices smoked salmon
100g cream cheese
100g goats cheese
1 red capsicum, roasted & peeled
2 tspns capers
2 tblspns chopped dill
zest & juice of 1 lemon
pinch paprika
24 pieces toasted brioche or baguette
Serves: 6 (24 pieces)
Preparation time: 30 minutes
Method:

Place a double layer of cling film over a 24 hole mini muffin tray.
Cut 5cm x 4cm rectangles from each piece of salmon (reserve trimmings). Line each hole of muffin tray with a piece of salmon. Cover with cling film and set aside until needed.
Chop salmon trimmings and combine in bowl or food processor with the remaining ingredients. Process mixture, in increments, until smooth.
Spoon filling mixture into salmon-lined muffin trays. Roll salmon around filling to enclose and shape nicely.
Refrigerate, covered in cling film, until required.
Serve on a large platter with good quality fresh toasted brioche rounds. Garnish with dill sprigs.